"Artistes are like sponges. We absorb the sounds around us. So when it was time to create, I had to do an output of everything I had sponged in and processed. "  – Mr Eazi
By Emmanuel Okoro
One sunny afternoon, seven years ago, I met Mr Eazi, but not in the way one would expect. I was in a packed room at a friend's apartment, where he had set up the latest Pro Evolution Soccer video game on his laptop, with music from his iTunes library playing in the background while we took turns to play. When I finally grabbed the gamepad, the music switched from a high-BPM track to a mid-tempo groove that was unfamiliar to me. It was a song about a lady who may have developed a sense of entitlement as a result of her attractive features and substantial following on social media. The sonic elements were pleasing to my ears, and it seemed to fuel my desire to win. With the new song as my soundtrack, I slowly pulled ahead and won the match, dethroning the reigning champion. That song became my victory anthem. 
The song was Mr Eazi's single "Hollup", and that fateful gaming session put me on the path of discovering the artiste. Now, I meet Mr Eazi again, but still not in the way one would expect. I sit across him from my veranda, his voice reverberating through my laptop screen, having a virtual discussion. As we discuss the mad workings of an evil genius who has introduced the world to his unique Banku music, we, among other things, delve into his latest project, The Evil Genius, emPawa Africa – his talent incubation hub, and his admiration for Jay-Z. 
Eazi Like a Sponge
People say that art imitates life, a sentiment vividly reflected all around us, especially in the mesmerising flicks on our television screens, personal computers, and cellular devices, as well as the music we consume that stirs our emotions and prompts us to sing along. In spite of this, the age-long question of whether all creators effectively capture life through their art hangs in the air.
Born Oluwatosin Oluwole Ajibade, the multi-talented artiste, music executive, and entrepreneur, who has become popularly known as Mr Eazi, epitomises life and experiences through his music. Renowned for pioneering Banku music, a distinctive blend of West African Afrobeats and Highlife, Mr Eazi crafts mid-tempo, groovy compositions seamlessly infused with Nigerian and Ghanaian pidgin.
To Mr Eazi, Banku music is a reflection of the music that surrounded him. From growing up in Port Harcourt to visiting and holidaying in various Nigerian cities and later moving to Ghana for education, he absorbed the sounds of Highlife and Afrobeats from street corners, nightclubs, beer parlours and pepper soup spots, and radio stations. When the time came to make his music, these diverse influences converged in the studio. Like an absorbent, he had taken in the sounds around him. As Mr Eazi eloquently puts it, "Artistes are like sponges. We absorb the sounds around us. So when it was time to create, I had to do an output of everything I had sponged in and processed".
This unique Banku sound permeates hits like the 2015 "Skin Tight", 2017's "Leg Over", and the 2018 "Pour Me Water", which propelled him to stardom and set him apart from other of his contemporaries. This stardom ushered in doors of collaboration with international acts, even though some of these collaborations stretch his sound beyond Banku music. Tracks like Major Lazer's "Tied Up" (2018), Balvin and Bad Bunny's "Como Un Bebé" (2019), Beyoncé's "Don't Jealous Me" (2020), and "Patek" (2022) showcase his versatility across genres. Banku music is again evident on The Evil Genius, especially on tracks like "Panadol" and "Zuzulakate", where Mr Eazi treats audiences to groovy, laidback compositions. 
(Read also – The Evil Genius Review: Mr Eazi Gets up Close and Personal on Debut LP)
The Evil Genius
Since stumbling into the music industry in 2013, Mr Eazi has become a household figure in the evolution of Afrobeats, with songs and projects that he classifies as mixtapes. This includes 2013's About to Blow, 2017's Life is Eazi, Vol. 1 – Accra to Lagos, 2018's Life is Eazi, Vol. 2 – Lagos to London, 2020's One Day You Will Understand EP, and 2021's Something Else EP. 
But in an industry where perception often moulds careers, Mr Eazi sought to reclaim his narrative with less reliance on external validation, whether from fans or critics, and more dependency on himself. Mr Eazi wanted to create a historic debut in every sense of the word. An album where personality would take precedence over the songs. The title, for one, somewhat draws historical antecedence from the Highlife luminary, Dr Victor Olaiya, whose 2009 album was titled The Evil Genius of Highlife. 
Far from the typical, the title reflects his unconventional style and the deeply personal nature of the project. As he elaborates, "The music I was making during the two-and-half-year process wasn't radio music or McDonald's music. The summary of what I speak about on the album is self-discovery. It was me describing myself through my own lens." By late 2019, having made several hit records and established emPawa Africa, there came the weight to chart his next musical course.
However, it would take two years before Mr Eazi finally took the plunge to create the album, despite the relentless nudges from seasoned producers and collaborators, Kel-P and E-Kelly. Interestingly, the kickstart process was particularly surreal and spontaneous. On February 16, 2021,  Kel-P extended a casual invitation to unwind at his apartment in Accra. Initially reluctant, Mr Eazi agreed, anticipating an evening of video games and vibes. However, Kel-P had a subtle plan in motion. Amidst their casual banter, Kel-P began playing an instrumental on a loop. "I started singing deeply personal stuff that no one had ever heard, and Kel-P said 'Let's record', and we did." This serendipitous session birthed the track "Exit", a composition marked by deep reflection and gratitude. That fateful day kicked off the process that became The Evil Genius. 
(Read also – "Versatility Helps, but Perseverance Is Key": Nigerian Actor, Eso Dike, on Breaking Into Nollywood)
Maintaining Thematic Consistency 
Mr Eazi recorded The Evil Genius in different parts of the world, including Lagos, Accra, Kigali, London, Los Angeles, and New York, but he spent the most time recording in Ouidah and Cotonou. This globetrotting venture meant collaborating with various producers, artists, and sound engineers, prompting the question of how thematic consistency was maintained across such a diverse geographic landscape. 
For him, the album was a personal note to himself. He excitedly explains, "If you're describing yourself – whether you go to Canada or Dubai, it's still yourself you're describing".  Maintaining his creative direction for the project wasn't a problem, as the idea was all in his head. To illustrate this point, he shares an example: "When I shot the music video for 'Exit' with Soweto Gospel Choir in South Africa, I was already done making The Evil Genius. That same night, I recorded 'Patek', a track that announced my party mode. I was no longer deep in my reflections". "Patek" was the leading single for Chop Life, Vol 1: Mzansi Chronicles, a project that was released earlier this year after teaming up with BBC Radio 1Xtra's DJ Edu to form the group, ChopLife SoundSystem.
The Evil Genius is sonically split into a three-part act. The first act navigates the emotional and mental toll of success, wealth, and fame. Transitioning seamlessly, the second act of the album takes a deep dive into the complexities of love and relationships, and then the third act explores themes of spirituality and gratitude. One wonders—as I did—whether the second act of the album was centred on his partner, Temi Otedola. While both of them currently host the podcast "How Far? With Mr Eazi and Temi Otedola", she rarely appears in his musical endeavours. However, she did make a notable appearance on the music video for the 2022 track "Legalise", a song dedicated to her. Shot in Venice, Mr Eazi proposed to her right on the set. Describing the experience, Mr Eazi states, "To me, it wasn't a music video. It was like a movie". "Legalise" not only revealed Mr Eazi as an artiste but also a romantic who pulled the right stops to captivate his lover. 
Confident that the album was complete, Mr Eazi still grappled with the notion that the album was too personal to be released. He likens the recordings on the album to therapy sessions, stating, "Nobody attends therapy sessions and takes all the recordings from those sessions and releases them for public consumption." The challenge lay in deciding how to handle this personal journal. Eventually, he developed the boldness to release the album, backed by the exceptional artwork he saw. The album was not just raw recordings of therapy sessions anymore; it had now transformed into a meticulously mixed, mastered, and cinematic experience.
Marrying African Arts to Music
The intersection of music and art forms a fascinating nexus where creative realms converge and sometimes intertwine, especially when shared interests align. The Nigerian music industry has had artistes who have effectively married visual elements into their musical creations. Afrobeat legend Fela Kuti commissioned paintings for his projects like No Agreement (1972), Kalakuta Show (1976), and Original Sufferhead (1982). Similarly, Nigerian rapper, Falz collaborated with Lemi Ghariokwu, a long-time Kuti collaborator, to design the artwork of his 2019 album, Moral Instruction. Mr Eazi, however, took it a notch further. 
During his time recording in Benin Republic, Mr Eazi stayed over at a hotel that was laden with paintings and artwork. Subconsciously, these artistic elements became part of his daily routine, influencing his thoughts as he woke up and retired for the night. Upon returning from New York, where he had gone to record "Legalise", he encountered an artwork by Beninese painter Patricorel hanging in the hotel lobby. Struck by its beauty, intricacy, and descriptive power, he realised the potential for art to become the central piece of the album, elevating the music on a spectral level. He contacted Patricorel and commissioned him to make art pieces for the album. 
And like an obsession, whenever Mr Eazi stumbled upon an artwork that intrigued him, he would contact its maker to work on a track on the album. This led to a groundbreaking collaboration with 12 artistes from Nigeria, Ghana, Cameroon, Senegal, South Africa, Togo, Zimbabwe, Kenya, and the Benin Republic. Each artist was tasked with creating companion art pieces for the album tracks, marking a pioneering approach to bridging African arts and music.
Given the ambitious scope of this collaboration, one might question the level of creative freedom afforded to the visual artistes. To this, Mr Eazi asserts, "It was 100% creative freedom for them, as the art was the B side of the album. There was no guideline. Everyone painted what the song meant to them, and I never saw any artwork and said, 'This doesn't fit into this project.'" 
Leading up to the album's official release, Mr Eazi curated a music and art exhibition experience at the Gallery 1957 in Accra, and at the 1-54 Contemporary African Art Fair at Somerset House in London. There, he treated audiences to an immersive experience as they interacted with the art while he performed the music.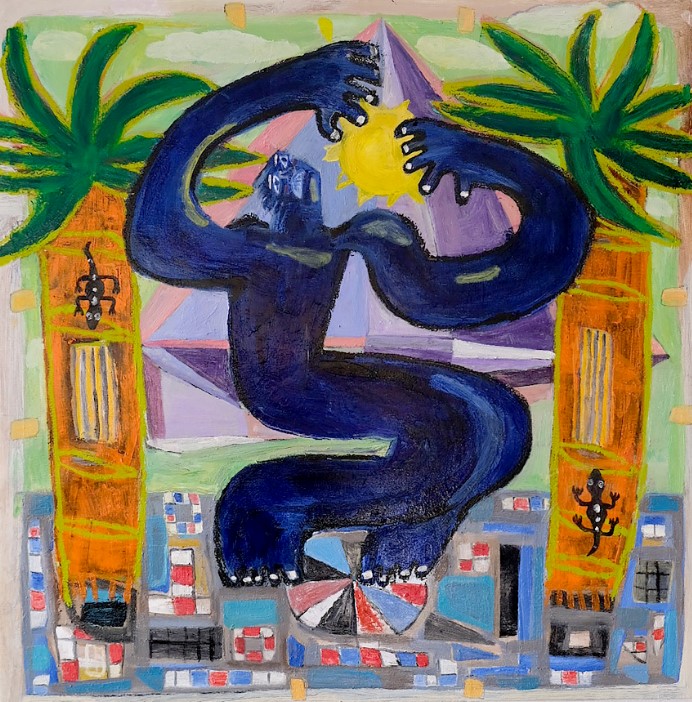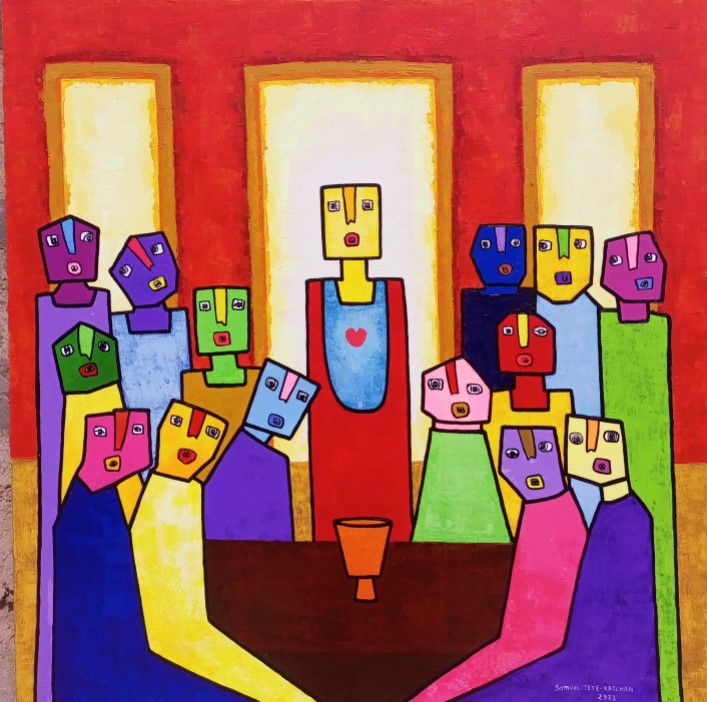 That experience was reminiscent of Jay-Z's 2013 single, "Picasso Baby" performance, where multiple elements converged in a dynamic spectacle. Mr Eazi fondly reflects on his own performance, "I felt like I was in the centre of two worlds. I felt like a vessel with so much energy flowing around in one place. It wasn't about me anymore." Throughout the making of the album, Mr Eazi played Kingdom Come – Jay-Z's 2006 album – the most. The business acumen and artistic brilliance of the rap legend served as a subtle inspiration for the making of The Evil Genius. Kingdom Come presented a reflective yet celebratory theme that particularly fit into Mr Eazi's creative process for his album and somewhat mirrored his own tracks. As Mr Eazi points out,  his "Olúwa Jọ̀" became a reflection of  Jay-Z's "The Prelude" and "Beach Chair" mirrored his song, "Exit". 
(Read also: "The Fun Projects Are the Most Challenging": Femi Dapson, on Securing a Spot as a Top Music Video Producer in Nigeria)
emPawa Africa and the Birth of  Creative and Economic Freedom
In the music industry, artistes are often at the mercy of the labels they are signed to, relinquishing their control away to shady 360 and net profit deals that leave them high and dry in the long run. Mr Eazi chose to remain unsigned and instead establish his own label. Explaining his motivation, Mr Eazi states, "I wanted to have creative and economic freedom. And I realised that once you take money from somebody, you have to respect and oblige with the creative terms and conditions that come with the money".
Mr Eazi, in November 2018, founded emPawa Africa, a talent incubation, record, and publishing company.  This move was unusual, especially during the early phases of the "Afrobeats to the World" movement when his peers were typically signing with global music distribution companies. In 2019, he took a unique approach by offering 100 relatively unknown artistes the opportunity to have their demos and singles turned into music videos. The top 10 artistes, which included Joeboy, were mentored by established musicians. Since then, artistes such as Lady Donli, Minz, Bella Alubo, Majeed, Fave, King Promise, Killertunes, Camidoh, and Whoisakin, have released music under emPawa Africa.
Running a music label comes with its unique challenges, one of which is striking deals that are mutually beneficial for both the artiste and the label. As Mr Eazi notes, some of the deals offered to artistes were unprecedented. Sometimes, this meant that in the long run, it was only favourable for the artiste. "There were times I handled licensing deals of five years. So, emPawa Music only had to make money on the music (for five years) and then return the music back to the creator – even though I was part of the creative process. So, what then becomes the asset of the company?" To address this, Mr Eazi began investing in the music distribution platforms used by emPawa Africa and actively negotiated fairer deals with signed artistes.
Earlier this year, Mr Eazi raised concerns about Rimas Music sampling and interpolating Joeboy's 2021 track, "Empty My Pocket", on Bad Bunny's 2022 single, "Enséñame a Bailar", without proper credit. The song has since become a smash hit, generating over 300 million streams on Spotify. At the moment, it seems both record labels have come to a consensus. "Both legal and publishing teams from both ends have been working together to get it fixed. And if you go to that song, you will see Joeboy and Dëra (the producer) have been credited, and other things that are supposed to be done for that recording are done," he revealed.
We Need More Venues
Mr Eazi's personal interests and investments extend beyond music. Earlier this year, he unveiled an ongoing multi-million-dollar estate project in Rwanda, undertaken for both personal and practical reasons. "Rwanda sits as a good jurisdiction for setting up business and IP; that's why Rwanda is special to me," he says.
One of Mr Eazi's companies, ChopLife Gaming, played a significant role as one of the core sponsors of the inaugural Trace Awards & Festival held at the BK Arena in Kigali, where he also performed. The event stood out for its excellent visual and audio production. A feat like this may have been impossible to achieve in Nigeria, given the country's often structural inadequacies. Reflecting on the Kigali event, Mr Eazi says, "Unfortunately, in Lagos, we don't have such infrastructure in place to host an event of such magnitude. We need to have more venues, and this is going to be driven by demand. It's only a matter of time. For instance, in Nigeria's history, there were a lot of cinemas. But there weren't cinemas when we were growing up, but right now, there are cinemas everywhere. I feel like the same thing will happen to the music and event sector."
Mr Eazi has come a long way since the last seven years when I first encountered his music. He has not only captured the world with his unique sound but has developed an entrepreneurial acumen that is deserving of an evil genius. As the virtual interview slowly winds down, I ask him for words of motivation for people who constantly see him as an inspiration, to which he encouragingly shares, "Follow your guts, be real to yourself, and know what's important to you. Freedom is important to me; most of the decision I make in and out of music is inspired by freedom. If you know what's important to you, it will make your decision-making a lot easier."
Emmanuel 'Waziri' Okoro is a content writer and journo with an insatiable knack for music and pop culture. When he's not writing, you will find him arguing why Arsenal FC is the best football club in the multiverse. Connect with him on Twitter, Instagram, and Threads: @BughiLorde