The Black Book is a thought-provoking film that beckons reflection on the social and political landscapes of Nigeria, urging audiences to contemplate the consequences of a corrupt system. 
By Joseph Jonathan 
Films have always been a medium for social commentary; to draw attention to the harsh realities of situations such as poverty, crime, and corruption, and Nollywood has continued to lend its voice to social issues through vivid portrayals of Nigerian society. Films like King of Boys (2018), Gangs of Lagos, (2023) and 4th Republic (2019) have driven conversations on the deteriorating state of affairs, vividly portraying poverty, power politics, brutality, and bad governance. The Black Book adds to the growing repertoire of such films, as the Editi Effiong-directed thought-provoking crime thriller forays into the shadows of Nigeria's societal fabric, delving into the deeply entrenched corruption and the consequent struggle for justice within the Nigerian socio-political landscape. 
The story centres around Paul Edima, portrayed by Richard Mofe-Damijo, a deacon whose world shatters when his son, Damilola, (Olumide Oworu) is unjustly accused and slain by a corrupt police gang, as a cover-up for a more sinister and insidious operation. Paul embarks on a relentless quest to clear his son's tarnished name and expose the malevolent forces that perpetuate a broken system. It is on this quest he meets the persistent Victoria Kalu (Ade Laoye), a journalist who suspects foul play and is working to uncover the criminal activities and the masterminds behind these operations. Paul also has to confront his past as a mercenary for General Isa (Alex Usifo Omiagbo), as he gets tailed by a fellow combatant, Angel (Sam Dede), amongst many others in the kingpin. As the story unravels, it unforgivingly brings to light a sinister aspect of Nigeria's history, challenging the audience to confront uncomfortable truths and reflect on the harrowing repercussions of systemic corruption that many have become complicit in, whether by choice or not. 
(Read also – Mami Wata Review: The C.J. "Fiery" Obasi-Directed Drama is Bold, Beautiful, and Makes a Political Statement)
The Black Book is capable of leaving the audience scathing, as the dark underbelly of the story reveals a violent aspect of Nigeria's history. As Effiong summarises, it is a story that attempts to connect a forgotten past to a ruthless present, and the film delivers on this promise. The portrayal of Paul's past and present mirrors the dark past of Nigeria's military rule era and the present systemic rot in society.
With a screenplay by Effiong and Bunmi Ajakaiye, the film follows a familiar Hollywood action-thriller template, popular with films like Keanu Reeves' John Wick (2014) and Liam Neeson's Cold Pursuit (2019), where people lose a loved one and then seek vigilante justice against those responsible. However, the story maintains some level of authenticity by staying true to the Nigerian reality. But while the plot is ambitious and daring with its vengeance-seeking trope, it unfolds in a rather fast-paced manner that leaves little to be desired. The plot spirals rather quickly, establishing little understanding of why certain characters should be empathised. For instance, the relationship between Paul and his son before his death was not adequately established, and there is not enough backstory to fully explore the intricacies of this father-son relationship. Such backstory would have helped create a deep emotional connection with the audience, enough to root for his success.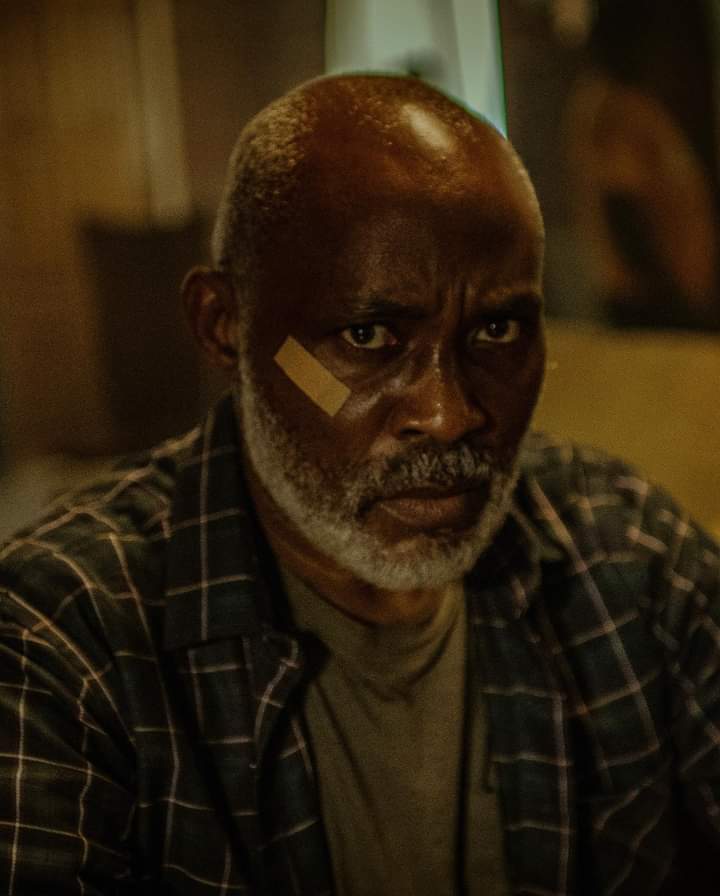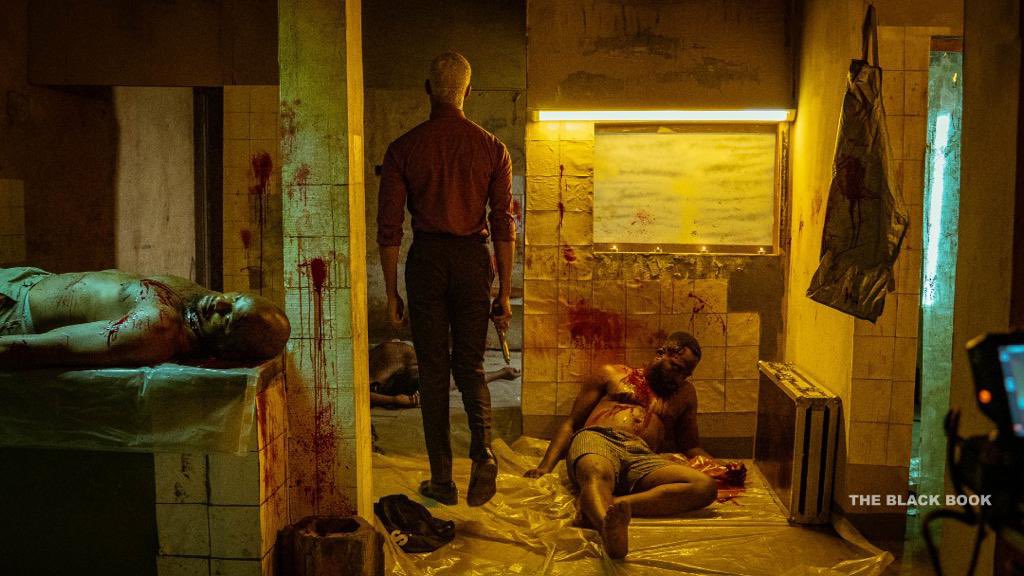 Usually, films develop with a central theme, and then there are sub-themes through which the major theme is explored. The Black Book, marketed as a revenge thriller, became lost in a multitude of sub-themes that proved detrimental to the plot's development, as Paul's conflicted past begins to shift his focus from his initial agenda.
But that aside, the casting was impeccable, even though some of the cast members were underutilised. Kemi "Lala" Akindoju, the casting director, along with Effiong, do a decent job with the cast ensemble of Nollywood veterans such as Mofe-Damijo, Omiagbo, Dede, and Taiwo Ajayi-Lycett, to the fast-rising stars like Denola Grey, Oworu and Laoye. It is also evident that there was a thoughtful selection process, for instance, the striking similarities between Mofe-Damijo and Joseph Momodu who plays the younger Paul Edima. Mofe-Damijo shines as the star of the film, delivering a balanced performance; combining his character traits of sternness and softness. Laoye gives a nuanced performance, sometimes faltering in expressing her emotions. Another performance worthy of mention is Bimbo Akintola as Professor Craig who perfectly embodies a grieving mother, albeit briefly.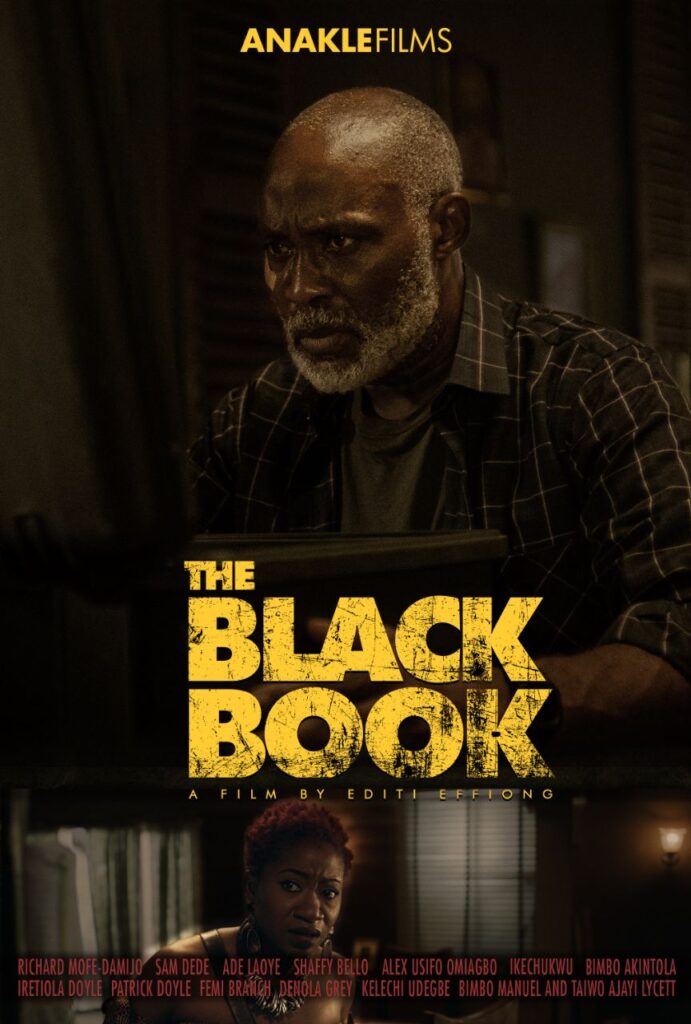 (Read also – Battle on Buka Street Review: Nollywood Returns Home in Funke Akindele's Polygamy Comedy)
A common feature of Nollywood's big-budget films is in the technical details such as dynamic cinematography, high-end visual and special effects, and seamless editing. With a reported budget of one million dollars, The Black Book does not disappoint in this regard; the film's editing and colour grading deserve commendable praise. Throughout the film, the smooth transition between various colour palettes helps convey certain emotions in each scene. From the nostalgic hues that enveloped the flashbacks to the cold desaturated tones that intensified the suspenseful moments, the film's visual storytelling is aesthetically pleasing. The choice of colours not only enhances the narrative but also allows the audience to immerse themselves fully in the characters' evolving emotional journeys. This underscores the film's artistic brilliance as the colours could pass off as characters in themselves; shaping the audience's perception and eliciting a rush of emotions in the process. Cinematographer, Yinka Edward, brings his wealth of experience to bear in this film and it is all shades of brilliant. The way he employs poignant camera angles, from intense close-ups that reveal the deepest of emotions, to wide-angle shots that allow the background to tell the story of the character is laudable.
The Black Book is a thought-provoking film that beckons reflection on the social and political landscapes of Nigeria, urging audiences to contemplate the consequences of a corrupt system. As it adds to the growing repertoire of films addressing pertinent issues, it underscores the power of filmmaking in sparking conversations and holding those in power accountable for their actions.
Rating: 3/5
Joseph Jonathan is a historian who seeks to understand how film shapes our cultural identity as a people. He believes that history is more about the future than the past. When he's not writing about film, you can catch him listening to music or discussing politics.