From the choice of collaborators to the fusion of different genres of music, the whole musicality of the Tequila Ever After positions Gold at a new height in his artistry.  
By Hope Ibiale
In a recent interview with Turntable Charts, Nigerian musician, Adekunle Gold disclosed about Tequila Ever After, his latest project, "Tequila Ever After is a metaphor for where I am now. It is happy, it is my RnB, it is my Pop. It's my reality right now." This statement is in line with the set mood for Tequila Ever After. Gold's latest project is indeed a mirror of the artiste's present state of mind, it is a toast to his growth, and to happiness. 
From Gold (2016) to About 30 (2018), Afropop Vol.1 (2020), and Catch Me If You Can (2022), Adekunle Gold has unravelled different layers of his artistry and personality. Since 2018, the artiste has exchanged his traditional adire attires for tailored suits and loose-fitting trousers, with the artiste donning more accessories, and switching from wearing a crew-cut hairstyle to styling braids. Also, Gold's artistic evolution through various sonic eras has become a blueprint for purposeful and seamless artistic transformation. 
Gold made his debut into the Nigerian music scene with a Folk-pop number tagged "Sade." With his fusion of Yoruba Highlife and traditional folk music on the track, Gold showcased his talent and cemented his presence in the Nigerian music industry. The artiste had revealed in several interviews that his genre choice came from listening to his father's indigenous Yoruba music collection. Hence, Gold became influenced by Yoruba Highlife artistes such as the Lijadu Sisters, K1 De Ultimate, and King Sunny Ade. These influences of these musicians are obvious in songs like "My Life," "Kelegbe Megbe," and "Pick Up," which had the distinctive sound elements of the Fuji and Highlife compositions. However, at the peak of the Covid-19 pandemic in 2020, the Nigerian music industry witnessed a change in Gold's traditional folk musical style. Music lovers worldwide were introduced to Gold's Afropop Vol.1, a 10-track project that perfectly showcased the singer's growth. The artiste shed his old skin, revealing "AG Baby," the first stage of his artistic evolution. With Tequila Ever After, his evolution is complete. He, yet again,  reveals another layer of himself.  On this new project, he is "Tio Tequila." 
(Read also: Trenches to Triumph Review: Crayon's Musical Odyssey is On Display in Debut LP)
Tequila Ever After opens up with "Chasing Peace of Mind." The legendary Malian guitarist, Habib Koite, and South African singer, Ami Faku, breathe life into this song. With the guitar strings from Koite setting the tone of the song, Gold starts with "My therapist don try, no remedy for my mind," giving listeners a glimpse into his troubled mind as he searches for peace. With lyrics like, "one smoke I'm alright," Gold hides under a few minutes of pleasure, getting highs from puffing cigarettes. Faku's dreamy vocals, Koite's strings, and the song's theme show Gold's intentionality about seeking peace, despite the challenges of stardom. Underneath the constant search for peace of mind, Gold invites listeners to have a good time. The rich instrumentals in the song's production, and the colourful lyrics introduce listeners to the happiness they are about to experience. 
The previously released single, "Party No Dey Stop," comes next. On this song, Zinoleesky's versatility shines on the Kel-P and Monro-helmed production, as Gold pulls his weight with the chorus. As the title of the song suggests, Gold and Zinoleesky wear the "YOLO" slogan on their sleeves, encouraging listeners to always enjoy life. 
When the song "Soro," begins, the strings, drums, and thumping bass draw my attention. The instruments come in at different points of the song, bringing genres of Highlife, Afropop, and Amapiano to listeners. The artiste makes sweet promises to his love interest as he compares himself to Nigerian Highlife musician, Chief Osita Osadebe. Perhaps Gold makes this comparison because he, like Osadebe, has explored Highlife music, too. 
Gold jumps into "Tio Baby," he wastes no time as he picks up where "Soro" leaves off. On the Afro-swing song, the artiste is a smooth sweet-talker. From the first listen, "Tio Baby" already sounds like a club banger due to its appealing lyricism, the easy-on-the-ears production chops, and the smooth breaks in the chorus. 
With "Ogaranya," – which translates to big man – the artiste toots his horns and sings of his achievements. He sings, "I'm on a new level, better make way when you see Ogaranya," as he confidently celebrates his wins. In "Ogaranya," the singer samples Yoruba musician, Musiliu Haruna Ishola's "Ise Oluwa Ko Seni Toye." Gold shares his testimonies, making allusions to the Nollywood actor, Kanayo O. Kanayo, who usually portrays a wealthy person in his movies.
"Dem dey think say I gentle for face but I no gather" starts "Wrong Person," which features Odumodublvck. With such an intro, you can guess that Gold is as bold as can be. On "Wrong Person," Gold deviates from his usual "love" and "living-a-good-life" themes. Here, he brags about his abrasiveness, and reiterates that he is not one to be messed with. With its upbeat Dancehall influences and Odumodublvck's fierceness, the song fits perfectly into the bold artistic narrative Gold is trying to paint. Kel-P continues his magic on the next song, "Don't Be a Baby," which has some spillover fierceness from the previous track.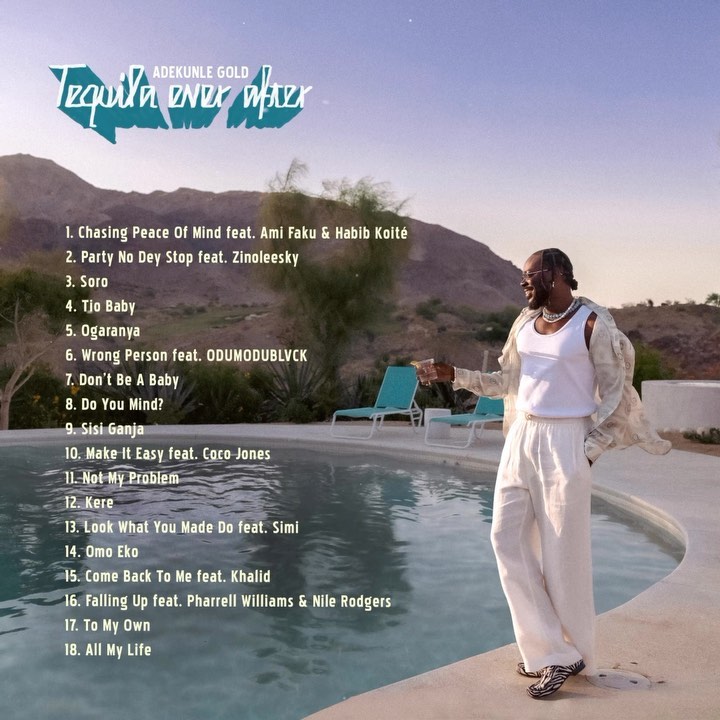 On the next song, "Do You Mind?" Gold gushes over his lover's perfect body as he brags about his sexual prowess. Over the uptempo tune, he sings, "Girl, I want to hear your body/rotate your body." Gold's further adulation for his lover's body is expressed on the track, "Sisi Ganja," with the artiste admiring the female form.
American actress and singer, Coco Jones, who is also the 2023 BET Best New Artist winner, comes alongside Gold on the subsequent track, "Make It Easy." In this duet, both artistes lean into their R&B influences. They complement one another and bounce off each other's lyrics. Gold is right beside her, as Jones hits the high notes. 
(Read also: The Ultimate Guide to Upcoming Afrobeats Festivals in 2023)
On "Not My Problem," Gold says goodbye to his reluctant lover. "Today you wan stay, tomorrow you wan go," he sings about her indecision while in the relationship. Guitar strings are again prominent here, but this time, accompanied by the saxophone. On the next track, "Kere," Gold reminisces on his humble beginnings. He confidently blows his horns, ignoring the naysayers, and bragging about being the blueprint that other artistes follow. He sings, "Wo nipe mo kere but they dey copy my way." Kel-P, again, is at the helm of production. "Kere" might as well be one of the songs on the project that stands out, in terms of musical production. 
Five years after their last duet, Gold and Simi join forces to deliver "Look What You Made Me Do." Together, they sing about the crazy things they have done for love "look what you made me do, fell on my face for you." The tempo rises as they reach the latter part of the song, making the duet more memorable. 
"AG we want to party" is the chant that begins the next song, "Omo Eko." This song exudes pride as the singer boasts about being a Lagosian. Having grown up in Ikotun, a town in Lagos, Nigeria, Tequila Ever After would have been incomplete without a song about Gold's identity as an "omo eko" (a Lagosian). Throughout Gold's discography, the artiste has always reminisced about his early days, sharing his journey with listeners. After all, what is a man without his roots? 
On "Come Back to Me," Gold is more solemn as he begs his lover to return to him. American singer, Khalid, restates Gold's feelings on this song, as Khalid longingly sings, "come back to me let's make it work." Here, Gold regains his "lover-boy" disposition, and promises to be a better lover. 
"Falling Up" is another song on the album that stands out for its musical production. Here, Gold enlists the help of American artiste, Pharrell Willaims, and the legendary composer, Niles Rogers. The song is elevated with Williams' vocals and Rogers playing the guitar. The track's introduction, with the well-arranged drum patterns and backup vocals, enhances the story Gold is telling with his lyrics. "Falling Up" is experimental. It is unlike anything Gold has done before. There is an intentionality behind the features. The song's arrangement, and the combination of the sounds explored makes the record shines. The uniqueness of this song does not displace it from other records on the project, instead, it introduces us to Gold's new layer. 
(Read also: Blessed Review: With Sophomore Extended Play, Mohbad Marks Triumphant Comeback) 
With "To My Own," Gold continues to be unapologetic about his art. With British artiste, Labrinth by his side, Gold is at his boldest. Here, Gold embraces all the decisions he has taken thus far, and tells everyone who cares to listen that he will continue dancing till his wheels go off. Labrinth adds to the song's essence, as the British star joins him on the musical journey. 
The project closes with the slow-tempo tune, "All My Life." The song meets Gold declaring his love to his lover and promising to always stand beside her. "All My Life" does not work as a closing song. Its love theme does not aptly wrap up the resilience already showcased in songs like "To My Own" and "Falling Up." A better option for closing Tequila Ever After would have been "To My Own," considering the thematic progression of the album.
Gold's Tequila Ever After is a toast to his musical growth and his journey thus far. With nothing to prove, he simply enjoys himself on each track. It is obvious that there are no set standards to attain. As listeners immerse themselves in the project, each song is as seductive as a shot of tequila. On this album, perfection is not the goal as he simply sings to his heart's content. 
An impressive feature of the 18-track album is the recurring celebratory theme that flows through the project. This symmetry gives the project the sonic cohesiveness it needs to thrive, and reduces the possibility of having a disjointed album. Some might argue that the recurring merry theme gives the album a monotonous feel, but the sonic brilliance of the project rules out this assertion. The production chops from Kel-P, Seyifunmi, Monro, Shae Jacobs, Herv, and others also contribute to the project's brilliance. 
Overall, the intentionality behind Tequila Ever After makes the album an impressive listen. From the choice of collaborators to the fusion of different genres of music, the whole musicality of the Tequila Ever After positions Gold at a new height in his artistry.  
Lyricism – 1.4
Tracklisting – 1.6
Sound Engineering – 1.6
Vocalisation – 1.6
Listening Experience – 1.6
Rating – 7.8/10
Hope Ibiale is a writer and book lover.